Terms & Conditions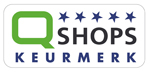 General conditions Qshops hallmark
The members of Qshops hallmark (Qshops.org) adhere to the code of conductdrawn up by our Organization.You can find more information about the code of conduct on our site. In composition takes into account social and legal aspects.
The content takes into account the European and Dutch legislation.They must ensure to protect the consumer and thus to create a reliable situation for the consumer to remotely to do purchases.
Qshops hallmark should members of the substance comply with the General conditions.Qshops hallmark is no guarantee fund in a situation of bankruptcy of a suspension of payments or affiliated company.
set own terms on that content companies correspond to the General conditions of Qshops hallmark.

Artikel 1: Definities

1.1 Consument: Consumer is the purchaser/recipient of goods/services as a natural person not acting in the name of profession or business.

1.2 Company: Company or part of a company that is connected at Qshops hallmark and deals with distance selling.

1.3 Qshops hallmark :Qshops.org as an organization and its internet site, part of Qshops hallmark to diepenheim.

1.4 distance selling :way of selling whereby a company is made of one or more used technique (s) for communication to close a distance contract.

1.5 Agreement: any agreement on sale or distance

1.6 Price: the price for goods or services

1.7 Offer: Any listing that a company does for goods or services with the attendant conditions that apply here.

1.8 Right of withdrawal: the right where consumers within a period of 7 working days after receipt of order, without giving any reason an agreement can dissolve.


Artikel 2: General terms and conditions

2.1 A company is required to provide the text of its general conditions or to make available to the consumer before the conclusion of any distance contract word closed.


2.2 General terms and conditions apply to any agreement between company and consumer who remotely closed.

2.3 Every company that is affiliated with Qshops hallmark business data sets available for publication on the Qshops.org site. Minimum registration is hereby COC number, VAT number, company name, vestigingadres, postal address, telephone number, e-mail address/form.

2.4 Derogations should are documented.


Artikel 3:Deals
3.1 Any offer of product or service must be clearly and truthfully to be defined.

3.2 derogations and limitations should be clearly indicated or.

3.3 Any offer shall contain information making it clear which rights and obligations a consumer has on acceptance of the offer.

3.4 In any offer, if applicable must be mentions: the price, method of payment, shipping costs and other conditions that apply.

3.5 Offers by telephone, it is desirable that the consumer receive enough information at the beginning of the conversation to decide whether or not to continue.

Artikel 4: Establishment agreement

4.1 an agreement comes only after acceptance and written confirmation from the company.

4.2 The company will for the implementation of the agreement the consumer with the necessary information. These include: the main characteristics of goods or services, price including all taxes, delivery costs, the modes of pay, perform and deliver, the existence of the right of withdrawal. (see article 5)
4.3 Within the law, a company can investigate creditworthiness of the consumer. Refusal of an application or order, if substantiated and to reasonableness is allowed. A company may also apply custom conditions.

4.4 The company must for or implementation of the agreement, the written conditions that apply.

4.5 The company serves its business name and location address in execution of the agreement to provide to the consumer, to here to report any complaints.

4.6 The company provides information regarding applicable warranty on goods or service in services.

4.7 Where appropriate, the duration of the agreement and/or validity of the price or offer to be mentioned.


Artikel 5: Right Of Withdrawal

5.1 The law States that an agreement on distance, Buy during 7 working days, may be revoked. The period of 7 working days goes in at the time that the consumer or the person on behalf of the consumer goods in the company of its obligations and takes delivery has met (see article 4).At services on the day of the period in which the agreement is concluded.
5.2 A company does not meet its obligations, then information is there a withdrawal period of 3 months. The company then to its information obligations, then the period of 7 working days from that time.

5.3 A company may not charge fees for the repeal. The consumer is only obliged to pay costs for returning the goods. If the consumer has terminated the agreement, then the company must repay the amount paid by the consumer.
Credit should take place soon, but in any case within 30 days after the dissolution of the agreement.

5.4 Limitations and exclusions must be clearly indicated by company.
Right of withdrawal shall not apply in the following cases: • for services whose performance has begun, with the agreement of the consumer, before the period of seven working days;
• for goods or services whose price is dependent on fluctuations in the financial market, which the supplier has no influence;
• for goods that are manufactured according to specifications of the consumer, for example measures work, or who has a clear personal nature;
• for goods which by their nature cannot be returned or are liable to deteriorate or aging;
• for audio-and video-recordings and computer software which the consumer has broken the seal.
• for the delivery of newspapers and magazines.
• for the services of betting and lotteries.
• The consumer can a loan with the supplier or with third parties, in order to be able to finance the good or service. The consumer may purchase or service contract within the cooling-off period revoked.
The law provides for the possibility of this revocation of the loan.

Artikel 6:price
6.1 The price of a product or service should be clearly indicated.
Indication of the currency used in symbol or Word is mandatory.


6.2 the company mentions the applied taxes.

6.3 Price increases are allowed only if by a result of legal provisions. If a company make a price increase, the consumer has the ability to dissolve the agreement.

6.4 At variable prices must be provided sufficient information about here and apply any prices if target prices.

Artikel 7: Order and execution of order


7.1 The company must, no later than within 30 days unless otherwise agreed the order. This period shall begin from the moment that the agreement has been reached.

7.2 The company will with great care the adoption and implementation of an order.

7.3 At not being able to deliver within 30 days by the company, the consumer must are informed and the possibility to dissolve the sale. It should already paid as soon as possible, but no later than within 30 days to repay.

7.4 Performing services or delivery of goods without incurring any agreement with the consumer is closed, shall be deemed to be unsolicited.

7.5 delivery of goods takes place at the address that is specified by the consumer unless otherwise agreed.

7.6 The company bears the risk of loss/damage of goods until time of delivery, unless otherwise agreed.

7.7 The consumer is obliged the company to report inaccuracies in information provided or received.

Artikel 8: Payment

8.1 The consumer shall be made within 14 days after receipt of the amount owed to comply with good (honor) or service (s), unless otherwise agreed with the company.

8.2 Every company clearly indicates how a payment can be done.

8.3 If payment is offered here in term should the conditions applying to them are made available.

8.4 In default by the consumer, the company has the right to legal restrictions to charge for costs incurred.
Shall be provided by means of the consumer to be informed.


Artikel 9: Complaints and disputes

9.1 Every company the possibility to give to the consumer to make a complaint via e-mail, fax or by post.

9.2 companies must as soon as possible and at the latest within a week complaints pending. To find a solution will be a maximum period of 30 days worked, unless the situation does not allow. The period of 30 days goes in after receiving the complaint by the company.

9.3 consumers need written with the company to communicate. The communicated should be kept for any disputes to enable Commission.

9.4 When it doesn't come to a solution with the company, consumers can appeal to mediate complaints. The consumer should the complaint form to fill out and send on the site.

9.5 queries of mediation with a complaint can, and should be done by online consumers. Maximum 3 months after the submission of the complaint to the company shall submit the application within. Qshops hallmark reserves the right to not act correctly of company membership and certification of betreffend company, and the right to withdraw from the conduct of the label.

9.6 If mediation brings no solution can be a consumer or a business dispute to the disputes Committee arise geschilonline. en. For a connected company, this is mandatory. This is a choice for the consumer.

9.7 A disputes Committee's ruling is binding. At mutual consent can be a company and consumer disputes Commission in another switch also.

9.8 Deze tekst kan helaas niet vertaald worden. Mogelijk is er momenteel een technische storing.

Artikel 10: Levering

10.1 Alle goederen of diensten dienen zo spoedig mogelijk geleverd te worden doch
uiterlijk binnen 30 dagen. Indien de levertermijn niet haalbaar is dient het
bedrijf de consument hiervan op de hoogte te brengen.

10.2 Indien een bedrijf niet binnen 30 dagen kan leveren kan de consument zonder
extra kosten de overeenkomst ontbinden. Al betaalde bedragen dienen door
bedrijf binnen 30 dagen terugbetaald te worden.

10.3 Deelleveringen zijn mogelijk in overleg met de consument.

10.4 Indien een bedrijf het bestelde product of de dienst niet kan leveren kan een
vervanging aangeboden worden. De consument is vrij om dit al dan niet te
accepteren. Voorwaarden voor bij levering van vervangende goederen of
diensten blijven van kracht.

10.5 Levering dient te worden gedaan op het door de consument opgegeven aflever
adres. Bij afhalen is dit niet van toepassing.

10.6 Het risico van schade tijden levering aan producten ligt bij het bedrijf. Tot het
moment van bezorging is het bedrijf verantwoordelijk tenzij anders
overeengekomen.

Artikel 11: Beheer van gegevens en privacy

11.1 Gebruik van persoonsgegevens dient te worden gedaan met uiterste
zorgvuldigheid.

11.2 Consumenten die gegevens beschikbaar stellen dienen op de hoogte gehouden
te worden hoe met deze gegevens word omgegaan.

11.3 Bij communicatie voor commerciële doeleinden als reclame en nieuwsbrieven,
dient de consument de keuze te krijgen dit te willen. Procedures voor het
opzeggen van bijvoorbeeld een nieuwsbrief dient duidelijk en eenvoudig te
zijn.

11.4 De consument moet de mogelijkheid hebben haar gegevens aan te passen.

11.5 Bij gebruik van persoongegevens anders dan voor het uitvoeren van een
levering of dienst, dient altijd toestemming van een consument gekregen te
worden.

Artikel 12: Lidmaatschap en gebruik keurmerk

12.1 Het keurmerk/Logo van Qshops mag alleen gebruikt worden indien betreffend
bedrijf is gecertificeerd en lid van de Qshops organisatie.

12.2 Voor het lidmaatschap zijn deze algemene voorwaarden evenals het
committeren aan de gedragscode van toepassing.

12.3 Qshops behoudt het recht om het lidmaatschap te beëindigen in o.a. de
situatie;
-Bij aanhoudende klachten.
-Het niet voldoen van contributiebijdrage.
-Bij constatering van het niet naleven van gedragscode.
–Bij het niet nakomen van bindende uitspraak(en) van een
geschillencommissie.
- Bij surséance van betaling
- Bij faillissement
- Bij beëindiging van activiteiten.

12.4 Het bedrijf zal het keurmerk zichtbaar op haar site plaatsen. Het keurmerk
dient een link naar de Qshops site te hebben zodat consumenten toegang
hebben tot informatie en service van Qshops.

12.5 Bij het onrechtmatige gebruik van het Qshops keurmerk behouden wij het
recht, om na waarschuwing en verzoek tot verwijdering, een boete op te
leggen. Tevens wordt bij het negeren van verwijdering het misbruik bij de
overheid gemeld.

Artikel 13. Betalingen lidmaatschapsgelden

13.1 Betaling van het verschuldigde bedrag zal geschieden via automatische
incasso binnen 14 dagen na factuurdatum (Bij uitzondering, te bepalen door
Qshops, via overschrijving van het verschuldigde bedrag naar een door
Qshops opgegeven bankrekeningnummer).

13.2 Bij het uitblijven van betaling van het verschuldigde bedrag binnen de
gestelde termijn is het lid in verzuim; hij is vanaf het moment van het in
verzuim treden over het opeisbare bedrag rente verschuldigd ter hoogte van
de wettelijke rente, één en ander onverminderd de overige rechten van
Qshops.

13.3 In geval van liquidatie, faillissement of surcéance van betaling van het lid
zullen de verplichtingen van het lid onmiddellijk opeisbaar zijn.

13.4 Door het lid gedane betalingen strekt / strekken steeds ter afdoening in de
eerste plaats van alle verschuldigde rente en kosten en in de tweede plaats
van opeisbare facturen die het langst open staan, zelfs al vermeldt het lid dat
de betaling betrekking heeft op een latere factuur.

Artikel 14. Incassokosten

Indien het lid in gebreke of in verzuim is met het nakomen van één of meer van zijn
verplichtingen, dan komen alle kosten ter verkrijging van voldoening, zowel in als
buiten rechte, voor zijn rekening.

Artikel 15: Wijziging voorwaarden

Qshops is bevoegd wijzigingen in deze Algemene Voorwaarden en in haar website aan
te brengen. Qshops zal de gewijzigde Algemene Voorwaarden tijdig op haar website
publiceren.